The 'Techy Bits' Done for You
      …  because you're a Coach not a web developer!!
I know that technology is the biggest single cause of confusion, frustration, and wasted time and energy for many of you
You know you need a website that attracts your ideal clients, and you want to offer on-line courses, but you don't know how to set them up so they work for your business.
And even when you have training to show you how to do it, it's a huge learning curve for you that can take forever to get to grips with.
You'd much rather spend your time doing what you do best – working with your clients and creating fab content for them.
Well, now you can!
You can offload all of the 'Techy stuff' to me and my team and we'll do it for you, and at the same time you'll get my eyes and expertise on the job, so you know you're getting what works for your coaching business
Here's some of the services we offer
New Coaches' Starter Package
Your first website designed and created for you from just £497
Our Starter Package gives you exactly what you need to attract clients via your website, and you get my guidance on your content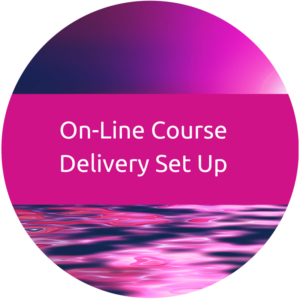 On-Line Course Delivery Set Up
From a Simple E-book to a Multi Part – Multi Media Programme, we can set it all up for you on your own website
No need to pay monthly fees for external platforms that you have no control over
Membership Site Set Up & Automation
Your Membership Site fully set up and put onto auto pilot on your own website
Subscription collection, access protection, auto-upgrades and drip-feeding content to the right people at the right time
Dear Karen
I just wanted to say a huge thank you for the amazing work you have done on my website. You have encompassed the ethos and healing energy vibrations that I wanted to portray; not an easy thing to do but you have achieved it.
It is truly a masterpiece of effective artistic design with all the technology in place to make it easy for potential clients to get in touch, find more information and to book onto events. Within 24 hours of going live I had 3 new sign ups.
I am very grateful for the time and attention given to my site and how it perfectly reflects my personality and intentions. You were patient, you listened and guided me when needed.  I will certainly be recommending you unreservedly.
Thank you once again.
Liz Carabine
We can also help you with …
Bespoke Design & Build
Need something a little different or want to add in some extra features?
Maybe your website could do with a refresh, or maybe it needs a complete makeover?
Let's take a peek and see what we can do!
Sales Funnel Set Up
Sales Funnels can be a bit tricky. They need to be set up in the right sequence, with correct links, and of course, convert visitors into buyers.
We can consult with you about the content of your funnel, and set up all of the pages, sequences and email integrations

Website Review Service
Website not working as a Marketing Tool, but you're not sure why?
We will review it for you and send you a detailed report on where it could be improved. It's then up to you whether you want us to do any suggested changes for you, or do it yourself